2018
We are Ana and Juan Vargas Azorit, and SOLO begins as a tribute to our grandfather Juan Antonio. In 2018 we bottled 250 litres of oil at the same cooperative in Jaén, where he always pressed the olives. Almost all the production was for friends and family, but it made us aware of our insufficient technical knowledge.
2019
We decided to change cooperatives in search of better processes and more quality. We started distributing our oil in Madrid, Barcelona and Donosti; our clients are mainly gourmet cafeterias.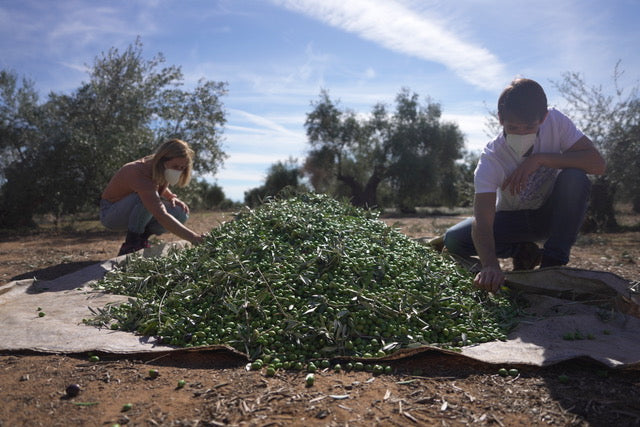 2020
Despite being in lockdown due to the global pandemic, we decided to leave the cooperative. We selected plots of land, chose the trees in the best conditions and obtained an extra virgin olive oil with a high organoleptic level and excellent quality after going through the mill.
The SINGULARES project is born with ECO and ARBEQUINA, two olive oils from other producers in Jaén, with a small batch of 250ml and 500ml bottles. We radically changed our brand's graphic design, working with Hey Studio for months to have our label communicate all that SOLO means.
2021
We selected our Los Capachos plot to produce SOLO Picual and SOLO Fugaz. We doubled production and improved quality to achieve an excellent grade in official tastings.
The SINGULARES project grows with an oil from Ourense, which combines the Arbequina, Brava and Mansa varieties. We collaborate with Kaitxo from Balmaseda (Bizkaia) to create a bean-to-bar dark chocolate with 60% cocoa from Ecuador and ONLY Picual.
In collaboration with Rooftop Smokehouse (Barcelona), we created a lightly smoked organic oil with our ECO Picual from Úbeda. We collaborated with Marzocco to create a line of SOLO La Marzocco.
2022
We continue our search for new varieties and origins that will join in the 22-23 harvest.
We have been at Naked Festival and All Those.